Project Overview
Senior Activity Center
The Jay Community Center is submitting a funding request for our 2016 Senior Center Expansion.
The purpose of this project is to improve and expand the existing Jay Community Center facility to provide dedicated space for senior programming.  The Community Center's current facility is 32,000 square feet and offers a broad variety of activities for the entire community.  Morning activities consist of senior programming, afternoons Jay County Boys and Girls Club; evenings are filled with fitness classes, youth sports practices and community meetings.
According to US census data, Jay County's 55+ populations is expected to reach 32% by 2023.  Senior programming at JCC has experienced rapid growth since 2012.  Dedicated space would allow other JCC programming to continue to grow and provide expanded senior programming throughout the afternoon and evening.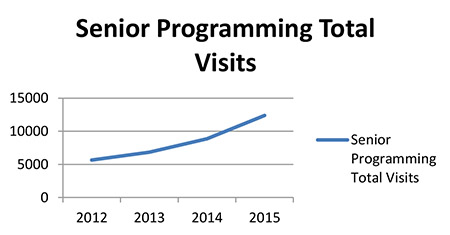 Project Timeline
Capital Campaign -  January through March 2016
Project Bidding -  Late Winter 2016
Break Ground - Spring 2016
Grand Opening - Winter of 2016
Project Budget
The Jay Community Center is asking you to consider a financial gift to be used for the construction of a 4,200 square foot expansion.  The total cost of the project is budgeted at $675,000.  The Jay Community Center has already received a $400,000 grant from OCRA.  Our challenge is to raise the remaining $275,000 through, grants, private donations, and sponsorships.  Below you will find rendering of the interior of the senior center expansion.
Cost Breakdown

Building Projected Cost:  $548,200
Furnishings: $40,000
Equipment:  $63,500  
Exterior: $18,600
Other: $4,700
Senior Activity Center
Building Proposal PDF