Cabin Fever Triple Crown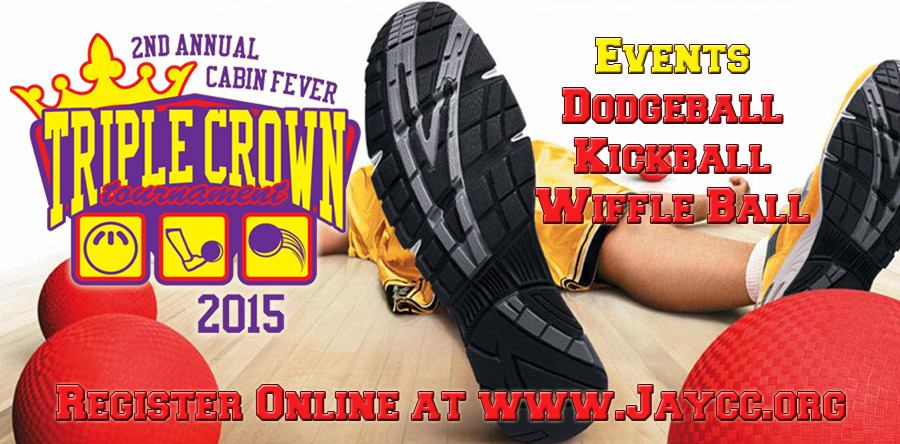 2nd Annual Cabin Fever Tournaments
Registration forms can be picked up at JCC
or click here for the Cabin Fever Registration Form
WHAT:  
Adult Wiffle Ball, Kick Ball, & Dodge Ball Tournaments. Double Elimination Tournaments. Participants must be 14 years or older to be eligible to play.  Teams may consist of 6-8 players with the roster remaining the same for all 3 events. 
WHEN:   
Wiffle Ball on Sunday 1/25. Kick Ball On Sunday 2/8. Dodgeball on Sunday 3/1. All tournaments will begin at 1 PM.
WHERE:
Games will be played at the Jay Community Center. Indoor field includes outfield fence, foul poles, foul lines, and scoreboard.
COST:    
Team costs are $60 for any one event, $90 for any two events, $120 for all three events. Shirts can be purchased for an additional $10 per person.  All players must be paid for at the time of registration by Deadline of Monday, January 19th.
INFO:     
Teams may consist of 6-8 players with 6 players participating at one time in each event. The two extra players may be used as subs at any time. Bats and balls will be supplied for all events.  Complete list of rules will be sent to all captains.
PRIZES: 
Winning team of each tournament will receive individual medals. If one team wins all 3 tournaments to win the Triple Crown, a team plaque will be awarded.
2015 Event Winners