admin, Wednesday 27 November 2013 - 20:30:00
Senior Fit with Eme

Senior Strength & Flexibility, Senior Boot Camp, & Senior Fit Mix Classes
with Eme Miller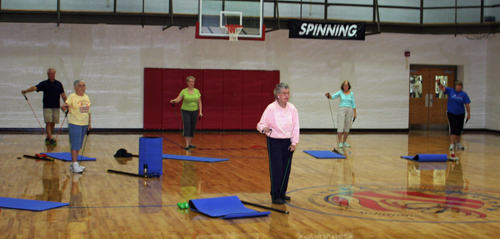 What:
Strength & Flexibility - Monday

An exercise class geared more toward moderate aerobics focusing more intensely on each move.




Boot Camp - Wednesday




This is a great way of performing exercise in a fun, energizing way! Stations full of upper body, lower body exercises, great cardio music and also floor core exercises.




Fit Mix -

Friday


This class will consist of a mix of weights, resistance bands and floor Pilates.
Where: Jay Community Center
When: See Senior Calendar

Who: Senior Citizens 55 & Over
How To Prepare: Wear comfortable & loose-fitting clothes
What To Expect: To feel great!
Cost:  FREE Activity • Recommended Donation of $1

---
this content item is from Jay Community Center
( http://jaycc.org/plugins/content/content.php?content.15 )